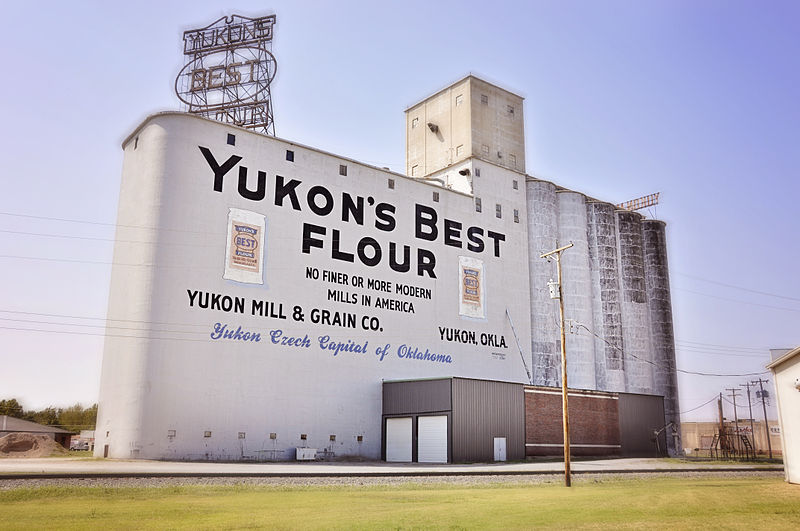 Yukon, Oklahoma
Yukon, Oklahoma isn't exactly the most well-known city in the state, but there's plenty to do here. If you've never visited Oklahoma, there's few places better (and less expensive) than Yukon! Whether you're looking for something usual and familiar or strange and unfamiliar, Yukon has something for you. Come visit our neighboring city of Yukon - you'll be glad you did!
·         Express Clydesdales Visit what your children will call "giant ponies" at Express Clydesdale! These draft horses are well-known around the world for their roles in medieval times (jousting and knights) and pulling carts in Europe. A state dripping in equestrian history, the Clydesdales are an unusual tourist attraction to say the least. Thousands of people visit the horses in Clydesdale barn, originally built in 1936. Not only do these horses bring people to Oklahoma, they also raise money for charities around the country.
These Clydesdales also had had the honor of transporting the Duke and Duchess of Cambridge during a visit to Alberta, Canada. They take part in nationwide parades, like the Macy's Thanksgiving Day Parade and Chicago's St. Patrick's Day Parade.
·         Archery Traditions of Oklahoma Family owned and operated, Archery Traditions of Oklahoma offers people of all ages to try their hand with a variety of bows. The indoor ranges packs 16-28 of the widest shooting lanes. There, you can test out traditional bows, compound bows, and crossbows. Those ready to take archery to the next level can test their skills at the indoor 3D range. The 10,000 square foot facility is located in downtown Yukon. Interested in buying a souvenir? You can check out the full inventory of bows and accessories with something for all budgets!
If you're just looking for a place to explore, Yukon's historic downtown is an excellent place to start. From there, you can find your way to museums, parks, and concerts as well as try out some local cuisine!